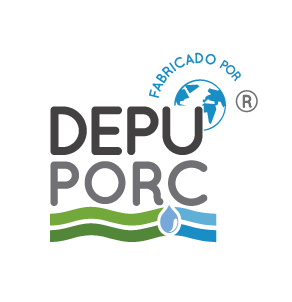 DEPUPORC® system
The wastewater treatment system "DEPUPORC", is protected by Spanish patent with number 2011311192 granted on 20.12-2013 and priority 13.07.2014 and is developed on the latest technology in "Electro Coagulation, Electro Flocculation and Advanced Electro Oxidation (EWS)".
RESULTING SOLID is used as fertilizer or biomassa after solid-liquid separation stage, also DEPUPORC® system generate BIOGAS through "Anaerobic Digestion Sequential (DNAS)" and finally DEPUPORC® system produce clean water for irrigation or cleaning establishment after running through "EWS:AOx" SYSTEM has being apllied.
The system is a continuous, progressive and packaged process over the liquid phase according to the following phases:
1.- Raw Manure Homogenization by a shaker in a raft.
2.- Pumping the homogenized slurry at the separation stage.
3.-Solid-Liquid separation in resulting liquid effluent. Recovery of the resulting solid.
4.- Biogas production running through DNAS.
5.- Microfiltration of the liquid effluent.
6.- Chemical dose before "EWS" process.
7.- Electro separation of water with Advanced Oxidation in EWS unit: AOx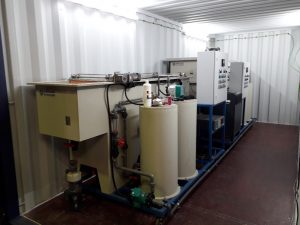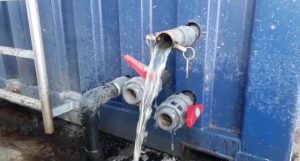 Adicionalmente a la reducción obtenida de Nitrógeno, el sistema DEPUPORC®, también obtiene las siguientes reducciones:
– Posphorus: 99%
– Chemical Oxygen Demand (COD): 95% -99%
– Heavy metals (Cu / Zn): 99%
– Bacteria: 100%
– Turbidity and Odor: 100%
The "DEPUPORC®" system was granted by the MINISTER OF AGRICULTURE, FOOD AND ENVIRONMENT of the GOVERNMENT OF SPAIN through the CARBON FUND FES-C02 as a PILOT CLIMATE PROJECT in 2013.
Ammonia removal better than 75%

75%

75%

99% Phosphorus content removal

99%

99%

COD removal rates between 95% and 99%

95%

95%

Heavy metals removal rates (Cu /Zn) to 99%

99%

99%

Bacteria Elimination

100%

100%

Elimination of Turbidity and Odor

100%

100%
… And removal CO2 emissions better than 75% with reduction of greenhouse gases
 LOCATION
CEEI ARAGON
María de Luna 11, Nave 5
50018 Zaragoza
Phone number: +34 876706948
Mobile number:+34 620 917 763
email: comercial@depuporc.com